Bible Studies + Classes – (WEDNESDAYS PM)
September 14 6:30 - 8:00 pm
WEDNESDAY EVENING BIBLE STUDIES + CLASSES (4-weeks)
Wednesdays 6:30pm – 8:00pm – Sept 14 – Oct 5
All classes $15
Facing Anxiety  – Struggling with anxiety hits close to home for many of us. If anxiety is part of your story, you know how debilitating it can be. You're not alone. Anxiety affects people from all walks of life. This highly relational, biblically based, 4-week class is for women only. Join us in a safe space where we will explore scripture, pray over the issue, and unpack what it means for those living with anxiety.
Class Teachers: Catherine Martinez & Toyah Earls 
Becoming An Overcomer – God used Joseph's life for his purposes and his glory. Do you desire for God to use your life too? This Bible study focuses on Genesis chapter 37-50 as we dig into the life of Joseph and how God brought him through setbacks, detours, and delayed promises. From the pit to the palace, God was with Joseph every step of the way. In this short, 4-week class, we'll learn biblical principles to help us live for God's purposes and glory.
Bible Study Teacher: Larry Allen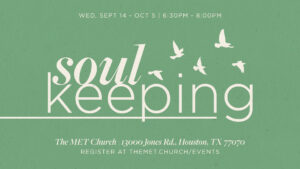 Soul Keeping – Our soul, the essential part of who we are, needs regular renewal and times of refreshing. Experiencing these things doesn't have to wait for a spiritual retreat or mountaintop experience. The Scriptures teach us that abiding in Christ, walking in the Spirit, and enjoying intimacy with the Father isn't as complicated or out of reach as we sometimes think. If you covet the Spirit's touch and crave a more fulfilling walk with Christ, join us for this short, 4-week interactive class.
Class Teacher & Facilitator: Pastor Scott Rodgers